A new school needs new teachers
Creating a new school culture places great demands on school management, organisation and teachers. Pioneering courage, commitment, patience and perseverance are important elements for success. All the participants are exposed and are also criticised from their own ranks, on the part of parents or authorities.
Joyful charisma and courageous steps are always needed to inspire and invite teacher colleagues, friends, parents, people of the state institutions and interested parties to participate in this project.
The teachers, as well as the people around the organisation of the nature school, must also have the courage and the joy to "go back to school" itself in a new way, because they are like the pupils still learning and inwardly preparing themselves to be able to provide the appropriate life and learning space. Because one can only pass on to others what one has internalised. Thus the pupils learn from the teachers and the teachers from the pupils.
Currently, one female teacher and five male teachers are at school. Ms. Ritu, Mr. Deepak, Mr. Dinesh, Mr. Bipin, Mr. Kuldeep , Mr. Vinod . Ms. Ruchi Devi supports the teachers and accompanies the children in dance and play.
What the teachers have to say about their work at the nature school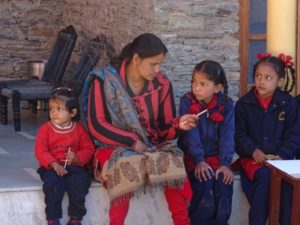 RITU MAMGAIN
I am teaching in Paramarth Awadhawan school since 1st April 2015. During this time I learned very much things in the school. I think childhood is the first step for the child's life. Children learn a lot  through the experiences they make during their childhood. If a child experiences more protection then the child feels better, and it learns more through the cooperation with friends. Children play and learn with different kinds of children, and they learn to understand what is good and what is bad. Good schooling is for children very important.
Our school supports better discipline. This is very important for children. All teachers of our school teach not only reading and writing to the students, but also yoga, art, craft, love for nature, love for animals, love for friends etc. Then the children grow up healthy, happy and intelligent. So, I like teaching in this school because all children are so sweet and naughty and cute and they love to have fun. Children come to school and enjoy the complete day.
I thank the school management, all teachers and all parents, and all people who are related to our school Paramarth Awadhawan. Thank you.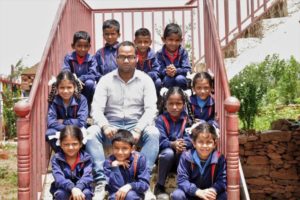 BIPIN SINGH BHANDARI
I started to teach for Paramarth Awadhawan school in April 2016. In this school I experienced a new method of teaching which is different from other schools. The aim of our school education is not only to teach knowledge from books, but also to connect students to nature and to understand the importance of nature.
It is a new experience and also a great opportunity for me as a part of this school. I thank my school and all my companions who invented new methods of teaching and helped me to understand a new education system.
When I started teaching in this school I began to understand the aim of our school education. The aim of our school is to connect the school education to nature and to the integral development of students by which they understand their cultural society and give their contribution to society.
During the school period 2016-2018 I was capable to understand the problems of the students.
The aim of the teacher is not only to teach students, but also to give affection as their parents, brothers and friends.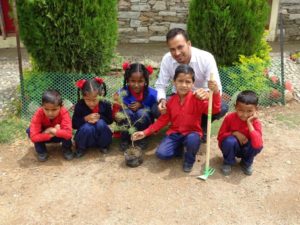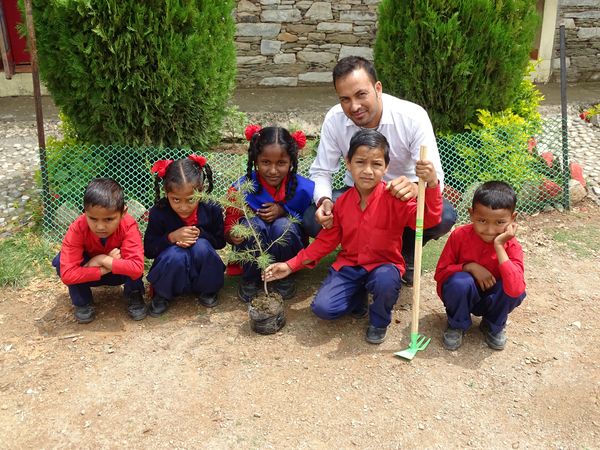 DINESH BHANDARI
I have now completed four years in this school. In this past year, along with teaching myself, I learned something very well in my own heart. When I first came to school, I was completely new to the experience of living with the children. But the concept of this school, from our Guruji (Shin), flowed a new energy into me, and I got to learn a lot from his thoughts. After coming to this school, we and our children met the people of other countries and got the privilege of being in touch with their culture, ideas and education. It is a matter of great pride for a Himalayan school and its people who are getting such an education and culture. Especially in today's times where urban children are made to kind of machines which have no time to think for themselves. The complexity of the usual schools is trapped in the back of the books and cannot get out of it.
But in my experience, I can say that the school's ideologies teach to survive using the things provided by our culture and nature. Usual schools don't like that the child-machine develops its own ideas. But our kind of education can make the life of the children happy and the future can definitely be beautiful. During all these years I was very happy with the results of our school. Children's learning methods and their understanding is very simple. The child learns from everything it hears, sees and does. The behaviour of a teacher in this school is different from other schools, and they are ready to understand those children deeply and then work with them. With these words, the future of the children here in this school is bright and pleasant.
Thank you.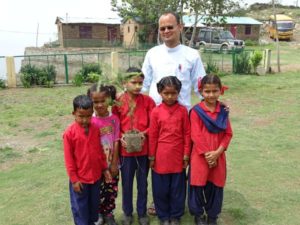 KULDEEP SINGH
When I became a part of this school on 16th May 2017 I only knew education about nature through books. Other things were never related to nature, and therefore, children learned only limited about nature.
But this school is based on nature, everything around the development of the children. The aim is not only education to earn money. Because if a person or a child thinks only of making money during education, its development remains very limited.
And in our school children are learning much more from the nature, also how many sources of earnings nature provides to us.
The teachers have decent behavior with children, and the parents like the friendliness in this school. Rude behaviour with children causes that children cannot express their feelings and unfold their inner side of activities and performance.
In our school, additionally to knowledge about nature, are teached craft activities  etc.
Children learn by playing.
In this school I have learnt so many things from my great colleagues. We all work together and help each other.
I heartly welcome and regard the great person, who invented this school, and all the national and international people who are connected to it, and as well all school families. I wish the school a bright future.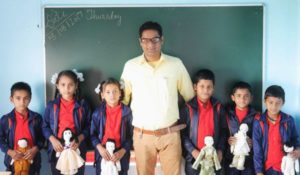 DEEPAK REAL
First of all I would like to thank Guruji (Shin), Sir Richard (Bhagin), Mam Susanne, Mr. Dilbar Uncle Ji and dear brother Rohit. I am so glad to be part of this institution because of the grace God (Shiva) and all of you .
I'm writing with love about the school and the children, teachers, staff, and parents etc. 🙂
I became a part of this instiution on 1st July 2014. Since then I have been honestly working as a teacher with it. It's my pleasure to be working with all of you.
On 15th July 2014 our school has been inaugurated by the Superintendent of Police (S.P.) Pauri. Before the school inauguration we roamed from village to village for the admission of new children until we got our school recognised by the government. After our school was recognised we finished going from village to village. Afterwards the school has been going nicely by the grace of God Shiva and Godess Parvati.
Later on Catherine, Juli and Carol have been coming to the school from time to time. They brought amazing ideas using their huge experiences, and guided all the teachers and children as well. I have learned so many things from them. Since last year Barbara and her mother Ingrid  have been coming to the school and gave us and the children their precious time and their splendid ideas and experiences. Year by year I learnt so many things from the school and the children.
Since 2015 I have been attending the seminar of the Guruji (Shin). I'm inspired by Guruji (Shin) and his spiritual ideas, ideological philosophy exercises etc. We are also following Guruji (Shin) and the school is going under his guideline.
This is a nature school and this school is truly situated in the lap of nature. We are also learning from the nature, and the children as well. All the teachers, staff, children, parents, people are helpful. It is a wonderful experiences with all of them.
I am still learning… Because learning is that process which takes the whole life, so that… Rest of things I can not express my feeling in words.
Lastly I would like to thank all of you from the core of my heart.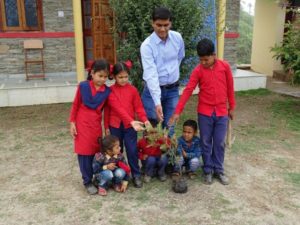 VINOD FARSWAN
I joined this school on 16th April 2018. When I became a part of this school I saw it is situated in the middle of nature, which I like most. Its atmosphere is quiet and peaceful.
Here we can teach our children to connect with nature, because in present time lots of schools are situated near the city, where it is too much noise, too much pollution, where we not can teach our children properly. So I like this school very much.
Another thing is that we teach our children by playing. I mean when we teach any chapter, we use also practical exercises, and we also teach craft, which is most important. The children learn craft by different activities, so they get a lot of knowledge. It is not important that we know everything. We also get a lot of knowledge from our children.
When we are visited from guests we get a lot of knowledge from them. We learn from them about their culture, about their country. And when our children hear that guests are coming they are also happy, because our guests teach them many things.
This school is also connected with yoga, which is most important in present time, because yoga saves us from many diseases. Yoga is most important part of our life, and is a regular activity in our school.
So we are thankful to our Sir, who invented this school. Once again I want to say that I like nature too.